Sami Jo Cole- Lady With the Powerhouse Voice – Page 3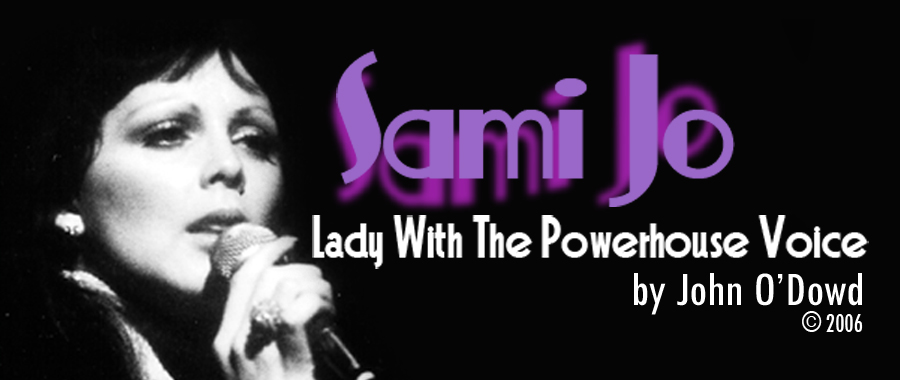 Last Update: 2007

Page 3 of 5

One of the highlights of Sami's career was the night she performed with The Atlanta Symphony with Steve Buckingham conducting the orchestra. "The city of Atlanta had declared it 'Bill Lowery Day' as a tribute to Bill's many accomplishments in the industry. Along with several of the other artists that Bill had helped, I was asked to perform that night. I sang Tell Me A Lie and the audience response was unreal. It was a very exciting experience…one of the most exciting experiences of my career, I think."

Sami's album It Could Have Been Me went to # 32 on Billboard's Top 100 Pop Albums Chart—not a bad showing for an artist's debut effort. Having already appeared on TV's American Bandstand, she went on to perform on The Bobby Goldsboro Show, Hee Haw, Pop! Goes The Country and The Jimmy Dean Show, among others. The August 15, 1974 issue of Rolling Stone magazine featured an article on Sami and her photo also graced the cover of both Cashbox and Record World, two important trade papers of the day. "It was definitely a whirlwind," Sami said, "as I was also performing in many of the country's top show rooms at the time. My career had taken on a life of its own but I loved every minute of it."

During this time, a news article reported that Sami was living in "a sexy, new townhouse on Dallas's Northwest Highway", and that she had acquired "three Mercedes sports cars and a Mark IV Continental." Sami admitted, "I was living very well but I was also careful about making some good monetary investments for my future. That was all due to Tony Caterine's influence. He was a brilliant businessman"

On the heels of her success with Tell Me A Lie, Sami appeared with such 70s icons as Mac Davis, Ray Stevens, Tony Orlando and Dawn and Jim Stafford on stages in Las Vegas and across the country. She said, "I felt so lucky being able to appear with all these great stars. I can honestly say that every one of them was kind to me, and they were all so supportive, too. I don't remember anyone being hard to deal with or anyone making me feel like I didn't belong right there with them.

"Most entertainers have horror stories of the stars they dealt with, but I really don't. Everyone was very generous to me, and to everyone around me. I can't tell you how grateful I am for that."

In January 1975, a third single titled I'll Believe Anything You Say was released off Sami's album, but it only reached # 62 on Billboard's Hot Country Singles Chart. Shortly afterwards, the MGM-South arm of MGM Records folded and was absorbed by the larger parent company. Sami's recording contract was one of the few from the subsidiary label that was saved. "All of a sudden I was told that I was going to L.A. to record with MGM Records president Jimmy Bowen," she said. "So, I went!

"The MGM South period of my life was wonderful and at the same time, very frustrating and confusing," Sami admitted. "I loved the people and trusted them, too, and I wanted so badly to be successful for them. It just seemed that we couldn't quite get things off the ground after Tell Me A Lie. I went to MGM Records in L.A. with the belief that things were going to be different."

Sami recorded her eponymous second album, a lushly orchestrated, full-out pop record, at Hollywood Sound Recorders. "I had always heard of Jimmy Bowen and knew of his wonderful work with Frank Sinatra and Dean Martin, so needless to say, I was very excited to work with him on my next album. The material he chose for me to record came from people like Billy Joel (You're My Home), Kim Carnes and Duke Ellinson (Changin') and Jim Weatherly (Storms of Troubled Times), and they were all phenomenal pop songs. Jimmy had the best players in L.A. working on my record and I had no reason to think it wasn't going to work. I obviously wasn't very knowledgeable about the business in those days!"

Half the songs on Sami's album were written by Weatherly (who had penned Gladys Knight's mega-hit Midnight Train to Georgia) and I asked Sami if it was a conscious decision of Bowen's to record her in a similar vein to Knight, who was one of her childhood idols. "Not to my knowledge," she answered, "but Gladys's music has always made a strong impact on me and I guess Jimmy may have heard that, too.

"Recording that album in L.A. was an experience I will never forget. Jim Weatherly, as well as Kim Carnes (whom Jimmy Bowen was also producing), were at most of my sessions. I remember that Kim was pregnant with her son at the time. I absolutely loved both of them as writers and felt very honored that they wanted me to do their material. My memories of those recording sessions in L.A. are something I will always cherish."

The two singles off Sami Jo were the oft-recorded Kim Carnes ballad You're A Part Of Me and Alan O'Day's Every Man Wants Another Man's Woman and though both songs were highly commercial, neither record charted. It would be back to the drawing board for Sami, to try to find another hit.

 
Please leave a comment below. or visit my retired guestbook, to see previous comments.
Leave Reply
You must be logged in to post a comment.