Sami Jo Cole- Lady With the Powerhouse Voice – Page 5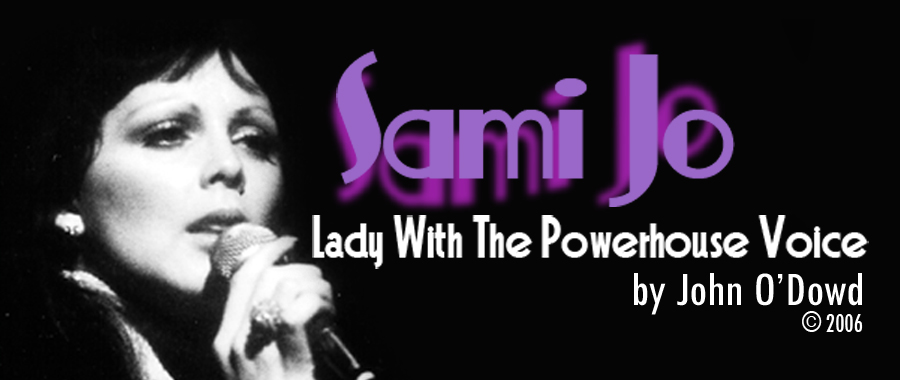 Last Update: 2007

Page 5 of 5

Upon returning home, Sami was invited to fly out to Los Angeles to audition for a co-host position of a new national TV show called Country's Top 20. She got the gig and in late 1981, taped several episodes of the show in Las Vegas. "That was such a thrill for me," recalled Sami. "I co-hosted the showwith Dennis Weaver and he was a sweet, lovely man. We had a ball together. Everyone with a top 20 country hit at the time was on the show and I thought it was very well done."

Sami sang on the show, as well—not her own records, but other artists material. While there was still the belief at Elektra that Sami's recording career continued to have great potential, she was starting to wonder if real stardom was ever going to happen for her.

By March 1983 Sami had been moved over to the WB side of WB/Elektra-Asylum Records and was scheduled to record an album with Jimmy Bowen, but industry politics once again reared their ugly head and prevented the project from ever coming to fruition.

"I really don't know what happened to that album," Sami said, "but I guess I was getting used to it by now. I always seemed to be in the midst of labels changing presidents or other problems I had absolutely no control over. It definitely wasn't good for my career. I only wish I had the opportunity to do it all over again. Knowing what I know now, I can assure you it would all turn out differently! Back then, I let other people decide what I should wear, how I should look, and what songs we should release…or in this case, not release. (laughs) That was my mistake, but only because I was too trusting and uninformed to know what was good for me."

Late in 1983, Sami took a break from her dormant recording career in Nashville and moved to Oklahoma, where she, Tony Caterine and their six-year-old son Tony Cole (born May 21, 1977) settled into a three-story, white brick mansion in a plush South Tulsa suburb. A news clipping from that period described Sami's new home as "beautifully appointed, with five bedrooms and massive hallways filled with expensive, pre-Columbian sculptures." Sami smiled at that description and said, "Yes, I found a real southern mansion and I fell in love with it, too. I had decided by then to stop traveling so much since Tony Cole was getting to be school age and Tulsa was a nice place to live. I continued to do some shows, as well as a few ad jingles and radio commercials, but I mainly wanted to stay home with Tony."

Despite her aborted album project from earlier that year, Sami was still under contract to WB— and still hoping for a break. Things, however, were about to get a lot tougher, as Jimmy Bowen explained in his 1997 memoir, Rough Mix (co-authored by Jim Jerome):

"The new WB (post 1983) had two full staffs and 54 acts—which meant more firings, more enemies…I wound up having to drop more than half the 54 artists on the combined roster. When I merged Elektra and WB, I got rid of most of the Warners people and kept my own staff from Elektra. I brought in Jim Ed Norman, who I'd known years earlier when he played in (the band) Shiloh, to be my head of A&R."

Although Sami had survived the first round of cuts at Warners, the prevailing opinion there was that she desperately needed a hit record to continue to justify Jimmy Bowen's longstanding support of her career. It was decided to bring in a new producer for her, and who better than the new head of A&R himself, Jim Ed Norman?

An extremely talented man whose deft production work helped make Anne Murray's early-1980s comeback a huge success, Norman and Sami collaborated on what would arguably be her shining moment on record: an exquisite remake of Brenda Lee's 1961 pop hit, Emotions. Beautifully produced with a lush string arrangement and a cool, retro sax solo at the end, the song was highly commercial, and Sami's vocal work on it was nothing short of sublime. But, although singer Juice Newton had won a Grammy Award a few years earlier with a similar treatment of Brenda Lee's Break It to Me Gently, and Crystal Gayle would have a # 1 country hit in 1986 with her Jim Ed Norman-produced remake of Johnny Ray's Cry, Sami's record, while highly reminiscent of both those songs, disappeared almost immediately upon its release. For reasons still unknown to her, Emotions was shipped to radio in March 1984, but was then promptly pulled by WB. As a result, the single never made it into most record stores and today it remains a highly obscure (and thus, much sought after) commodity on the collector's market. Of all the puzzling and unexplainable injustices in Sami's career, this was the one, she says, that hurt the most.

"To this day, I believe that Emotions and its flip side, I Can't Help The Way (I Don't Feel), were two of the best songs I ever cut. But the truth of the matter is, WB did not get involved to promote the record. Why, I don't know. It was a total waste of time and money. I will always feel that those beautiful songs and the efforts of Jim Ed Norman and I were totally neglected and that the record company did us both a complete disservice." A sad and bitter Sami left WB after all her hopes for the success of Emotions went up in smoke.

Following the end of her three-year deal with WB, Sami resurfaced in 1985 on Southern Tracks Records, a tiny, independent label owned by one of her earliest mentors, Bill Lowery. Sami seemed to go full-circle when she also reunited with Sonny Limbo, who produced her first single for the label, a somber, slow-moving ballad titled I'm Going Away (Before You Can Say Not To Go). Considering all that she had been through, perhaps it was no surprise to Sami when the record failed to chart. Though she would later record a duet with fellow 1970s pop singer Sammy Johns (of Chevy Van fame) in 1986, the song, Fallin' For You, received limited airplay, sending a clear message to Sami that her recording career was definitely winding down.

"In the late 80s I did go back into the studio one more time to cut some sides with producer Snuff Garrett," said Sami. "I was excited because I loved all the music he'd done in the 70s with Cher (Half Breed, Dark Lady, et al) and he said he wanted to record me in that same pop vein. Snuff was wonderful to me. Once again, we did the session, got along great, and then nothing happened with the album. There's a lot of fantastic stuff I cut over the years that just stayed in the can, as they say. I have no idea where any of it is now, or if it even still exists."

When her singing career first began to slow down, Sami got a job outside the music business, managing TC Sportswear and Accessories in Tulsa. "TC" was Tony Caterine, Sami's ex-romantic partner and manager. "By that time, I was totally disillusioned with the industry and I just wanted out of it. I can't say the feeling of running a shop was the same as performing, but I was so burned out, I needed to do something different in my life."

After four years, Sami left TC Sportswear for a management position at Burgundy's Fine Gifts, also in Tulsa. "My best friend Dee Sallee owned it and I loved working with her. We sold beautiful collectibles like Lladro, Swarovski Crystal and Hummels. I learned a lot and stayed there for about five years, when Dee closed the store."

As if her disappointment over her former recording career wasn't upsetting enough, Sami's personal life took a major hit in 1993 when she was diagnosed with cancer. "It was initially breast cancer," she revealed, "but then it got into my system to the point where my only option was to have a bone marrow transplant. Thankfully, because of two wonderful oncologists, Dr. Charles Strand and Dr. Allen Keller, I am alive today. I was in St. Francis Hospital for 30 days, then went home to a sterilized house and wasn't allowed to go to any public places for another two months. Basically, I was dealing with the cancer for all of 1993 and 1994." Fourteen years later, a grateful Sami reported that she remained cancer-free.

"Going through something like that makes you stop and think about many things in your life. I was told that because of the extreme doses of chemo I received that I might never be able to sing again. Thank God, that proved not to be the case. It's funny, but during that whole ordeal the main thing I thought about was whether I would ever be physically able to perform again."

In November 2005, Sami's son Tony and his fiance, Andrea, had a baby boy, Maximus Anthony Caterine, giving Sami her first grandchild. "Max Anthony is a beautiful child…and the light of my life," Sami said proudly. "He is by far the best thing that has ever happened to me." The early part of 2006 brought some challenging transitions in her private life, but Sami came through them later that year with a renewed interest in relaunching her singing career. "For an entertainer, there is nothing like the love and applause of a live audience. Nothing could ever take the place of the feeling I have when I'm singing and going for 'the note'! I would love to have the opportunity to perform—and record—again. The main problem is that no one seems to want to have an older woman or older person making music. A friend told me the other day that he heard a talk show host—I think it was Neil Bortz—talking about hearing a female singer who was 65 years old and how wonderful she was, and how she couldn't get any work because of her age. Now, isn't that a shame? But I guess that's just the way it is."

Sami has a rather novel idea on how that problem might be solved. "I think that Simon Cowell (American Idol) or someone of his stature needs to put together a weekly TV show about what happened to singers from the past (say, from the 1960s to the 1990s). They could call it Whatever Happened To…? and have the performers sing their old hits on the show. Hey, I would even be happy to be one of the hosts and help cheer on some of the wonderful talent that is still out there that no one gets to hear anymore! How much incredible talent is out there that had the one or two hits, and were never heard from again? I assure you, it often has nothing to do with talent—it could be due to bad timing, record label changes…a lot of things. I know that it happened to me so why could it not have happened to a lot of other people, too?

"I guess if I were to be totally honest, I would have to say that nothing in this world could ever make me feel the way that performing does. Singing was my joy and my therapy. I loved what I did, and yes, I miss it…I miss it a lot. I think back on those days in the late 70s and early 80s when I was working the best show rooms in the country, with people like Kenny Rogers and Bob Hope. It was wonderful. These days, I just sing in my car…

"Sometimes when I watch music shows, whether live or on TV, there is a sadness that takes over me and makes me feel like I am missing out on so much. I guess the question is: is there anyone out there who cares enough to bring a lot of us back? Is there anyone out there who is willing to take a chance and say, 'We miss hearing these people…let's give them another shot?'

"I don't know, but I can hope…can't I?"

John wishes to thank Sami Jo and Stacy Harris for their generous assistance with this article.

 
Please leave a comment below. or visit my retired guestbook, to see previous comments.