Remembering My Friend, Yvette Vickers – Page 5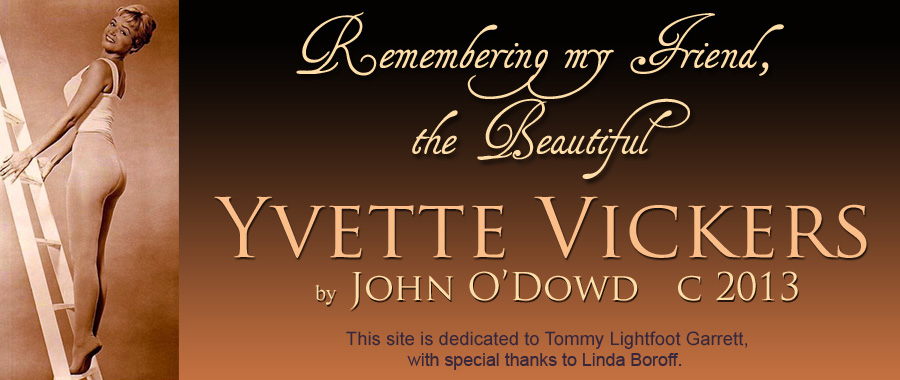 Last Update: 3/9/13

Page 5 of 6

The Love of Yvette's Life, actor Jim Hutton

Yvette's stage success during this time helped ease whatever frustration she felt over her stalled screen career, and her personal outlook was further elevated when she met the man she refers to as "the love of my life," film and television actor Jim Hutton. Introduced in 1964, the couple went on to have a love affair that Yvette described as "an intoxicating mix of two parts fervor with one part tempest." It was a highly-charged, soul-baring alliance that—at various times—bounced, rocked, and sometimes sputtered along until Hutton's death in June 1979. "Jimmy and I were caught up in a kind of wild and wonderful whirlwind that's almost impossible to describe. We were friends, lovers, soul mates—everything but married! He and I often talked about marrying, but it never happened. We were together, off and on, for fifteen years. He was the stereotypical, Irish Catholic male—hard-drinking, chauvinistic, funny as hell—but underneath it all, he had the insecurities of a child. We clicked on an emotional level that was deeper than anything I have ever experienced. Jim and I took off for Malibu and were happy to spend all of our time together. We walked along the ocean and had these really deep conversations that would last for hours. He was a highly intelligent, fascinating man. My acting career suffered in the late 60s and all through the 70s partially because no one could find me. Then again, I guess I didn't want to be found. I was in Malibu, laughing and loving with Jimmy, and it was all worth it."

Early on in their relationship, the couple courted a potentially prickly situation when Hutton was signed to do the motion picture comedy Walk, Don't Run, alongside Yvette's former flame Cary Grant. "I thought to myself, 'Hmm, this could be a bit dicey,'" Yvette recalled with a hearty laugh. "I thought maybe they would get together and compare notes, but it wasn't like that at all. Cary was too much of a gentleman to bring me up to Jimmy, and besides, he had already married Dyan Cannon by then. He and Jimmy got along fine."

It was during her years with Hutton that Yvette took a few steps back from her acting career and turned to working in real estate sales and investments, a professional move that proved extremely lucrative for her. "Although I was still getting stage work and some sporadic jobs in television, I felt I needed a lot more financial stability in my life, so I switched gears and went down a whole new road. I was lucky in that I had some fine mentors in the real estate business who showed me the ropes and really helped me along. With their guidance, I learned very quickly that investing in real estate is where the big money is. For instance, you might make two to three thousand dollars on a sale, but if you invest in a property and it sells, you can make one to two hundred thousand dollars. In the 70s and 80s it was important to me to start building a nest egg for my retirement, so I really focused on the business and worked my butt off. I wound up doing pretty well for myself, too (thank God)."

In 1979, Yvette and Jim Hutton's somewhat erratic union was once again challenged by the tragic news that he had terminal lung cancer. "What made it even worse is that he had found out about it during one of the times when we had drifted apart. He finally called me from the hospital. Jimmy was talking about wanting us to be together again in Malibu, walking on the beach at dusk and watching the sun go down into the ocean. He was later released, and we did get to do it, but then Jimmy's health took a turn for the worse and he had to go back into the hospital. He died there on June 2." Speaking of their many valiant attempts to "get it right," Yvette said, "The love was there but it just wasn't enough for a lasting commitment. Jimmy died at age 45 and I think in his case he was still too immature, and not ready for 'us.' But maybe I wasn't, either. After all, that goes both ways… doesn't it?"

Ladies Green with Envy

With a personality totally devoid of pretense, it is easy to see why Yvette got along well with the vast majority of her co-workers. Nonetheless, there were a few minor conflicts through the years and, as Yvette was quick to admit, "They were always with other women." One such instance occurred at the wrap party for the 1971 period thriller What's the Matter with Helen?, in which Debbie Reynolds and Shelley Winters starred, and Yvette had a small role. "We were standing at the food table and I had started to say something to Shelley when she suddenly looked me up and down with a dirty look on her face and then turned and walked away while I was still talking to her. I thought that was very strange and it didn't make sense to me, but I didn't pursue it because I don't believe in bothering someone if they're not receptive. It made much more sense to me later on when I learned that Shelley had once been in love with Ralph Meeker and apparently blew up at him when he didn't return the sentiment. I figured that she must have known about my prior relationship with Ralph, and I guess she held it against me.

"Another time, Gene Corman signed me for a very good role in a 1976 Kris Kristofferson/Jan Michael Vincent drive-in picture called Vigilante Force. It was a violent film, and I was cast as a madam in a small town bar. The character was a real brassy babe with a whole stable of teenage hookers. They dressed me up in this huge blonde Afro and a pair of tight-fitting jeans and I was very excited and ready to do a good job. I had several powerful scenes in the script but soon after I arrived on the set up in Calabasas, my role suddenly began to shrink and eventually all I was left with was a bit part and no billing. It was later explained to me that Bernadette Peters—who had the second female lead, behind Victoria Principal—thought that I looked 'too good' (her words) and she told Gene that 'it (meaning me) just isn't going to work'. As a result, my role was almost completely excised from the picture. That was tough for me, it really was. I hadn't done a thing except show up to go to work! It was very upsetting, and I thought, a very cruel thing for her to do.

"I originally had been signed to work on the film for six weeks, and although they honored my contract and paid me for the entire time, I wound up working only a couple of days. But you can imagine how I felt up there on location, knowing what had gone down. It was embarrassing. I remember that Kris Kristofferson was very kind to me. He didn't get involved in any of the drama per se, but he made a few very sweet comments to me to let me know that he felt bad about what had happened. In the end, the film turned out to be a tremendous turkey…just terrible. The whole experience was a total fiasco.

"The only other time when things didn't quite mesh with a female co-worker was when I worked with Karen Black in 1990, in the horror film Evil Spirits. It was my first movie in fifteen years, and after all that time I was happy to be working in films again. I was given the part of a nosy and extremely meddling neighbor of Karen Black's. Her character, Edna Purdy, runs a rooming house and her deaf-mute daughter is systematically killing off the tenants for their Social Security checks. The premise sounds good, but the film didn't turn out well. Oh, God, it was such a mishmash. My character meets a gruesome end when I sneak down into the basement of the rooming house and get devoured by a cannibal wearing a dog collar. Wow, talk about bizarre! (laughs)

"I originally had a few really good scenes in the picture, but for some reason, Karen apparently had some issues with me. For instance, she didn't want me to wear any makeup in the film's party scene (I have no idea why). She never explained it further, and since I couldn't see any reason why my character wouldn't wear makeup, I wound up wearing it anyway. I think that made her somewhat angry with me. In the party scene at the rooming house, Karen deliberately put her hand up in front of my face, knowing it momentarily blocked my key light, and you can still see it in the film. Then, after we shot that particular scene, she took me aside and complained that I had talked much too loud in it. (I had to project my voice, in order for my lines to be heard. It was a party scene, with lots of background noise.) Karen and I had lunch together a few times—in a group—and I wouldn't that say she was especially friendly to me, but that's okay.

"I don't know why these things happened. All I can say is, I've learned a lot through the years and I will now only respond to (and hang out with) people who are kind and accessible. I can't second-guess these individuals' attitudes or their motives. I just accept things for what they are, and then I move on. I wish I'd had a better working relationship with these women (and more women friends through the years, for that matter), but it just wasn't meant to be. I don't like cruelty of any kind, and I certainly don't want any trouble with anyone. I'm sure you've heard it before, but it's true: life is too short."

Jazz Singin' Mama with A Heart of Gold

In the late 1980s, Yvette decided to pursue another adjunct career, this time exercising her creative self through her lifelong love of music. She entered a Hollywood recording studio with a small core of jazz musicians to cut an album of sultry pop and blues-flavored ballads, and the end result was a cassette that her fans embraced. "We cut the album very quickly and I distributed it myself. I moved cautiously at first because I wanted to make sure I still had an audience. Well, I was absolutely amazed and very pleasantly surprised by the response that cassette received. A lot of my fans told me they loved it. The positive feedback I got really warmed my heart and gave me the confidence I needed to move forward with my re-entry."

Unfortunately, no sooner had Yvette's comeback as a jazz chanteuse commenced, when it was placed on a rather lengthy hold by far more crucial matters. As she explains, "I was working on my second album in the early 90s, when my mother became ill. She was my lifelong inspiration and my most loving ally, so I immediately put the brakes on my music so that I could take care of her. My father's illness followed in '93 and the next couple of years found everything else in my life grinding to a halt because they both needed me." While Charles and Maria Vedder would eventually succumb to their respective illnesses, Yvette's devotion to the two people she calls "the kindest and most wonderful parents in the world" is a true hallmark of her character. She dedicated A Tribute to Charles and Maria, her year 2000 CD of nine jazz tunes penned by her parents, to their memory, and had hoped that an album she had scheduled to record in 2003––a project that, sadly, went unrealized––would have continued to reflect her reverence for the style of music that they had all loved so much.

Despite experiencing some rough spots in the road, Yvette Vickers never abandoned a tenderhearted spirit that remained quite rare, and extremely endearing. Over forty years after her cult films, this great lady continued to bask in what was nothing less than an eternal outpouring of love from a loyal camp of admirers—which includes in its ranks such industry notables as Stephen King, John Landis, and the late Marlon Brando. Yvette often spoke warmly about her fans, and about what their support meant to her, and one of her fondest memories of all was when she received a thunderous roar of approval during her performance of the Peggy Lee song "Fever" at the 1991 Fanex convention in Baltimore. "That was the song I did when I first came back after all those years away from the business. I'll never forget the reaction I got from the audience that day. It was so loving," she said, softly. "I must say, the steadfast support of my fans is what spurs me on. I keep moving forward and they're right beside me, every step of the way. It's unbelievably sweet—and extremely touching. I'm truly at a happy place now in my life. I feel great, and my writing and recording projects are keeping all my creative juices flowing. With a lot of positive thoughts and energy, I'm looking ahead to the future.

"As for the past, I would say that while I worked very hard at my acting career, I also enjoyed my private life to the hilt. I lived it up at times, yes, but I always tried to do everything with a touch of class. With that in mind, I think I've come up with a really good title for my [proposed] autobiography: 'Yvette Vickers: A Lusty Wench with Dignity'. That kind of sums it all up now, doesn't it? (laughs) Thus far, it's been a pretty terrific ride…and I am very grateful."

As we were for you, dear lady.

Rest in Peace, Yvette.

 
var _gaq = _gaq || []; _gaq.push(['_setAccount', 'UA-39360450-1']); _gaq.push(['_trackPageview']);
(function() { var ga = document.createElement('script'); ga.type = 'text/javascript'; ga.async = true; ga.src = ('https:' == document.location.protocol ? 'https://ssl' : 'http://www') + '.google-analytics.com/ga.js'; var s = document.getElementsByTagName('script')[0]; s.parentNode.insertBefore(ga, s); })();
Please leave a comment below.
Leave Reply
You must be logged in to post a comment.