Remembering My Friend, Yvette Vickers – Page 4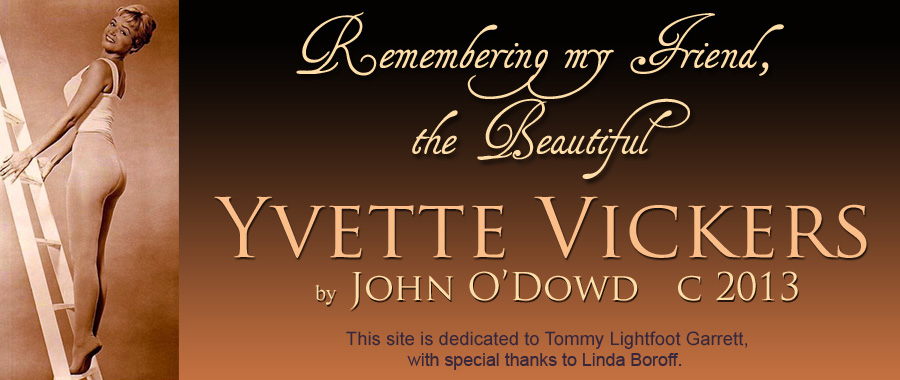 Last Update: 3/9/13

Page 4 of 6

Cary Grant, Friend and Lover

It was during this heady period in Yvette's life that she entered into her next serious relationship, this time with one of Hollywood's most elegant stars, the classy and debonair Cary Grant. "I met him in 1959 through my friend Stanley Shapiro, who was a screenwriter we both knew, and I was immediately blown away by the man's character. What a kind person Cary Grant was. He had absolutely no ego; he was just totally sweet and down-to-earth, and so funny. Cary not only had the best sense of humor, he also made you feel like you were the most important person in the world. I was young and spirited, and I think Cary was kind of fascinated with me. I really enjoyed our relationship and if I had played my cards right, maybe we would have even gotten married.

"But when we began seeing each other, I was still very gun-shy about marrying again. I had already gone through two failed marriages and I certainly didn't want to take the chance of having another one, especially with a man as nice as Cary Grant. It wasn't just me, though; at the time, Cary said he didn't want to get married either. So we dated off and on, right into the 60s, and it was wonderful. And then one day when he did start talking about marriage, I began to panic a little—until he explained that he didn't want to marry me, he wanted to marry Dyan Cannon. So, there you go. (laughs) We roared over that one! Cary felt bad about it at first, but I told him it was perfectly okay because I still wasn't ready to get married! Cary and I had a lot of fun together. He took me out to dinner a lot, to wonderful places like Madame Wu's in Santa Monica and The Luau in Beverly Hills. Cary was class personified, a gentleman through and through, and I still miss him. We were friends right up until he passed away, and I'll always remember him with the most utmost respect."

Hollywood's Beat Playmate

Surely one of the more exciting events in Yvette's life during her self-described "hot property years" was her selection as Playboy magazine's Playmate of the Month in July 1959. The subtly provocative spread, which revealed her Beat leanings—and her shapely, unclothed derriere—was photographed by Russ Meyer in Malibu, and also at Yvette's hillside home in Beverly Hills, and was designed to promote Yvette's sex kitten persona. To this day, she remains unsure if the layout helped or hindered her overall career. "The whole objective behind it was to stir up some interest in me and help me get better parts in films. It wasn't necessarily an unusual thing to do at the time…several other young actresses posed nude for Playboy in the late 50s (Mara Corday, Sally Todd, Dawn Richard, et al.) with the same goal in mind. Marilyn (Monroe) had her centerfold out a couple of years earlier and the rest of us were hoping ours would get the same kind of reaction her spread had received. In retrospect, it didn't help my film career—that much, I know—but I still don't regret doing it. The layout was understated and tasteful, and the photo shoot was a fun experience for me. Russ Meyer is a great guy, and he was a complete professional. He later took some gorgeous photos of me in a kind of rustic setting up in the Malibu mountains, which are just incredible. Russ is a genius with women."

Following her splash as Hollywood's Beat Playmate, Yvette headed to New York City in the fall of '59 to co-star in a Broadway show called The Gang's All Here. The actress was hired to emote as a fun-loving flapper amidst an otherwise all-male cast of industry veterans (including Melvyn Douglas and E.G. Marshall). She recalls her New York sojourn today with great fondness and remembers the flurry of activity that surrounded her Broadway debut. "The fact that I was a Playboy centerfold was not lost on the play's writers, director and producers. In fact, they loved all the publicity I was getting. So I would say that my doing the play was good for me and good for the play's business, too. We had a nice, healthy run of about a year, which may not sound like a long time, but I think we all accomplished what we set out to do. While I was in the show, I got into that whole New York social scene, and when I wasn't on stage working hard, I was out having fun. Every day, a group of us would hit Joe Allen's or Elaine's Restaurant or Michael's Pub, and we would have the best time. I loved everything that New York City had to offer back then, and I took in all of it: from the museums and the nightclubs, to the stores and the beatnik bars in the Village. I was very young, and while I was totally dedicated to my acting career and loved working hard, I really enjoyed playing during my off time, too.

"My co-stars in The Gang's All Here were all veterans of the stage and I was in awe of their talent. Melvyn Douglas was a dignified man in his late fifties, and he kept me enthralled with his stories of all the people he knew back in Hollywood, including my childhood idol, Greta Garbo. One night, Melvyn took me out for dinner and told me he wanted to get to know me better, but I nipped it right in the bud and he behaved just fine after that. I was flattered, but with me, the interest has to be mutual. Still, he was such a wonderful man. And what a brilliant actor!

"I met actor Ralph Meeker, the next man I was seriously involved with, while I was doing the show. He was a very romantic guy, and he took me to some of the most exclusive French and Italian restaurants in town. We hit it off right away and wound up having a love affair that lasted for five years. Ralph was a real straight shooter, and he always encouraged my career aspirations. He was constantly telling me, "Don't let anyone try to hold you back, Yvette. You go for it." Ralph and I did everything together: we played tennis, worked out together at the gym, and sometimes took couples massages at a health spa. Even after the romantic side of our relationship cooled down, we always stayed friends. Ralph and I were together for quite a while…both in Manhattan and on the west coast."

TV Westerns, Hollywood Stage Plays, and HUD

Although she received reams of favorable press during her stage stint in New York, upon her return to Hollywood in the early 60s, Yvette met with some resistance from the industry when she attempted to follow up on her Broadway success with more film work. "I tried very hard to get some strong film roles in those years, but it just wasn't happening for me. The thing is, from about 1955 to the early 60s, I guest-starred on well over 100 television shows (the number is probably a lot closer to 200), so although my film resume may not be as extensive as I would have liked, I did work a lot more than many people realize. In the late 50s I did a lot of bad-girl roles on shows like Dragnet, Mike Hammer, and M-Squad, and then right into the 60s I guest-starred on a ton of TV westerns (including Bat Masterson, The Rebel, Wyatt Earp, Tales of Wells Fargo, The Texan, Shotgun Slade, The Rough Riders, and several others). I did two or three episodes of each of these shows—the producers would always call me back, which always made me happy—and although a lot of those parts were different variations of the cheap, tough-talking vamp, there were some nice exceptions. For instance, on one of The Rebel episodes that I did, I played a sweet and sympathetic young girl who worked with a deaf child. I learned sign language for the show and was quite happy with the way it turned out.

"I had a fun time on The Texan, which starred Rory Calhoun. We had worked together a few years earlier at Universal, in a western called The Saga of Hemp Brown, and we got along great. Rory was an absolute doll, and he had a terrific sense of humor. In fact, on the set of The Texan, he and the show's producer, Vic Orsatti, busted my chops unmercifully. I remember one time, I was in my trailer getting dressed and they snuck up to the window and scratched and giggled and pretended they were peeking in. (laughs) Now, of course, they couldn't see anything, but they sure as heck wanted me to know they were back there. Rory was happily married, so it was definitely all in good fun. I thought the way he liked to tease me was adorable. Totally harmless fun."

In 1963, Yvette felt a renewed surge of hope for her movie career when she was offered a good part in the Paul Newman film, Hud. "I thought, 'This is it! This is exactly the kind of film I need to put me over'. I played "Lily Peters," an unfaithful wife who is running around with "Hud Bannon" (Newman's character), a nasty, no-good womanizer who treats everyone like dirt. I originally had four, dynamite scenes in the picture, but then some very innocent flirting on the set between Paul and me apparently caused some waves somewhere, and the powers-that-be responded by cutting my part down to nothing. Paul and I had been photographed goofing around on location in Texas and it upset some people who thought our onscreen interaction might come across as too intense. (Obviously, a ridiculous excuse.) In the end, I was left with just one tiny scene in the beginning of the film. I was crushed.

"But it got even worse. Right after that happened, one of my ex-boyfriends got into a terrible screaming match with my agent, a man named Abby Greschler, causing Abby to have a near-fatal heart attack. The story spread through town like wildfire. The coup de grace, though, was when someone began planting vicious rumors all around Hollywood that I was selling myself on Sunset Strip and picking up drunken sailors in bars. It was horrible––an outrageous lie. The damage that was done from those last two events, especially, was incalculable. Most of the interviews I went on after Hud were only for bit parts, instead of starring roles. So, just like that, my film career kind of dried up. It was tough on my heart, it really was. I went back to working in the theater, and although I had several great stage roles over the years, I never managed to pick up the pace and get back on the same track (in films) that I was on before. I did two more small parts in motion pictures during that time (1962-63). I was in a Sidney Poitier/Bobby Darin movie, Pressure Point, where I played a lush, and then I did a silent bit as a Yoga girl in AIP's Beach Party. I was duped on that last one. I had originally been signed to do a 'celebrity cameo' in the film, and I thought, 'Why not?' The producers told me it would be a lark to see me in leotards, doing a silent meditation. They said that I would get special billing and that it would be a great gag. Well, the gag turned out to be on me because in the end, they stuck me in the background with another girl (Sharon Garrett) and took away my 'special billing'. Needless to say, during the early 60s I had much better luck with the stuff I did onstage.

"One such job was Grand Guignol, which was the umbrella title of two very scary one-act plays I did at The New Club in Hollywood. It was a very innovative production, based in part on the shock theaters that were so popular at the time in Paris. The show was quite a grisly affair and people came out in droves to see it. In the first play, I was a chi chi Hollywood reporter who was chased around onstage by a mad scientist and a gorilla, and in the second play, I played a nagging, trailer-trash-type wife who ends up being murdered by her husband. After he kills me, he cuts off my head and puts it in a potbelly stove––how's that for gross? (laughs) My co-stars in the show were Tom Troupe and Charles MacCauley, two really good actors. The production values for Grand Guignol were very strong and the director, Jim Collier, was just great. We opened in early '63 and it ran for almost a year. I remember it closed right after President Kennedy was shot. Somehow the money for the show had disappeared, and I don't know if it's ever been found. (laughs)

"I've acted in over 25 stage shows, and Frenzy and Phoenix Too Frequent were two, in particular, that I found to be very interesting. I produced Frenzy, which was an adaptation of an Ingmar Bergman film that had been translated by Peter Ustinov. It was about a college student named Bertha (my character) who is having an affair with one of her professors until she meets a concert violinist with whom she also falls in love. Everything explodes, of course, and I wind up getting killed in the end. It was a dark piece of work, very powerful. Phoenix Too Frequent took place in ancient Rome and I was in full regalia as a woman of royalty. My husband has just died and I'm down in the catacombs with my handmaiden and a guard. Well, the guard and my character get drunk on wine and proceed to have an affair right there in the tomb. (laughs) I got totally lost in that role. I remember going on stage and immediately going into this deep, dreamlike state. It was a breathtaking experience. Both plays were extremely well-received, and I got some of the best reviews of my career.

 
Please leave a comment below.
Leave Reply
You must be logged in to post a comment.