Remembering My Friend, Yvette Vickers – Page 2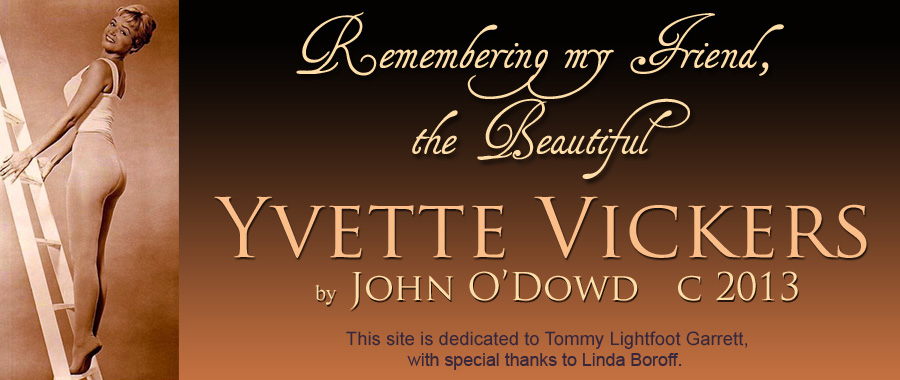 Last Update: 3/9/13

YVETTE VICKERS: A Final Conversation with the Beloved Actress

by John O'Dowd c 2013

Page 2 of 6

She tangled with a 50 Ft. Woman and tussled with blood-sucking slugs, and in the process, she won her way forever into our hearts. Yvette Vickers combined a scintillating screen persona with a formidable acting talent, to secure her place as one of Hollywood's best genre film Bad Girls of the 1950s. Blonde, blue-eyed and gorgeous—and blessed with a body with more curves than a mountain road—Yvette shattered the stereotype of the beautiful but untalented starlet by revealing some serious acting chops. While her icon status was cinched via her roles in the unforgettable cult films Attack of the 50 Ft. Woman and Attack of the Giant Leeches, the former Playboy Playmate enjoyed a lengthy career that often saw many of her other professional accomplishments fall under the radar. For years, a busy performer on the small screen, Yvette also sang and danced in several LA stage productions, and later released two albums of classic jazz and pop tunes.

Although she was often cast as a heartless hussy in her film and television roles, the real Yvette Vickers was compassionate, insightful and intelligent—a real class act. With interests ranging from world politics to animal rights, Yvette remained a joyful idealist in an often-downbeat world—qualities that only added to her rich legacy. Her incredible warmth and humor, and her great personal style resonate in everything she did, even when discussing the many setbacks she faced over the course of her career. "So many of my fans want to know why I disappeared from films in the 60s and why my movie career didn't go further than it did," she said. "A lot of them mistakenly think I just wandered away from it. They don't know there were some things that happened that I had no control over. It will all be covered in my autobiography, which I'm currently working on, but I certainly don't mind setting some things straight, right here––I don't have anything to hide." (laughs) On the contrary, as the following interview revealed, one of the industry's most adored femme fatales was more than happy to share all the details of her Hollywood journey—including her intriguing evolution from Cult Movie Queen to Jazz Singin' Mama.

She was born Yvette Vedder on August 26, 1928 in Kansas City, Missouri. Her parents, Charles and Maria, were professional musicians who had toured successfully for many years. From their daughter's earliest days, the Vedders saw that Yvette was raised in a safe and loving environment. "I had the best childhood," Yvette often said. "My parents truly were wonderful people. We moved from Kansas City to Malibu when I was six months old, and I remember music being an absolute constant in our lives. My folks rehearsed a lot, and they always had jazz records playing in the house. Dad played the tenor saxophone and my mother played piano, and they performed in lounges all over the country. Malibu was a magical place for a child. I had this huge sandbox and ocean to play in, and I was a total beach baby. We lived in the beautiful mountains of Ramirez Canyon in a kind of artists' colony. There were a lot of actors and musicians living around us, and it was a very safe and nurturing place."

As professional jazz musicians, Yvette's parents befriended many famous players of the day, including such greats as Woody Herman and Charlie Parker. The group would often gather at the Vedder home after their nightclub gigs and jam all night. Yvette remembered joining in the fun while still a toddler. "I was weaned on jazz, so I know it like the back of my hand. Those musician friends of my parents were the coolest, friendliest people. As a very small child I would wander out into the living room while they were playing, and do a little song and dance for them. They loved it. (laughs) They were perfectly respectful, too. There were no drugs around (and no drinking, either). My parents weren't into that scene at all, so when the guys came over, it was all about making music. Looking back, I think that whole period of my life was almost like a clinic to me. I learned a lot from them, and I just soaked up every bit of the music and energy that I could. Even though my primary dream as a child was to be a writer, music was always important to me, and I always knew that one day I would do something with it."

In addition to her interest in music, the art of dance was also an integral part of Yvette's life. "I started taking dancing classes as a child and later went on to perform with the Sonia Shaw national ballet troupe in 1954 and 55. I was so serious about it and so disciplined that I took three ballet classes a week for several years. Music and dance touch my soul in the very same way that nature and Yoga do. They're all part of what I call my spiritual journey, and they've all brought me a lot of happiness."

Discovered by Billy Wilder

A student at the Academy of St. Catherine's in Los Angeles for twelve years, Yvette studied journalism and classical piano, and by age fifteen, she was acting in local little theater productions. "Eventually, I was discovered by Billy Wilder, who gave me a bit part in his classic film Sunset Boulevard. I'm one of the guests at the New Year's Eve party, where I'm seen laughing on the telephone. Then comes my one line, to William Holden: 'You can have the phone now.' Hey, being in a big film like that was pretty exciting for a young kid just starting out."

Following this auspicious debut, Yvette saw her last name changed to the more colorful-sounding "Vickers". She said of the name change, "A producer of a play I was acting in at the time just kind of plucked it out of the phone book. I didn't mind it. I thought it suited me just fine." Armed with her new surname, the luscious blonde continued her theatrical work in L.A.

In 1955, Yvette was performing in a stage production of the musical That's Life when she was spotted by a Hollywood casting agent who got her a White Rain shampoo commercial. "I skipped along and danced in the rain with an umbrella, just like Gene Kelly did in Singin' in the Rain. The ad was on national TV, and I was paid about one hundred dollars each time it aired. Since it wound up running for several years, the residuals were quite nice. I remember thinking, 'Wow, if this is how show business works, let me in!' (laughs) It was a high-profile spot, and a terrific springboard for me.

"By this time, I was already married. I met my first husband, Don Prell, while I was performing at the Player's Ring Theater in Hollywood. A group of us had been hired to do a show for the Army, out at Edwards Air Force Base, and I was introduced to Don on the tour bus. He was a very talented bass player, and a real nice guy. I was only 18 when we married, which I know now, was far too young. I admit, I was a little wild and hard to handle back then––I still had a lot of living to do. Don and I were married for four years, and our divorce in 1957 was amicable. Our marriage ended because I was busy concentrating on my acting career, and he was on the road a lot. There were no rip-roaring fights—we just never saw each other. Don's playing with a symphony orchestra these days, and I hear he's doing great.

"My subsequent two marriages were much more difficult, and I'd rather not discuss them. All I can say is, thank God for my work as it has really seen me through some tough times. I was very driven in those days––very self-confident and ambitious––and that gave me the impetus I needed to quickly get out of any unpleasant situations. Focusing on your work is often the best thing to do when your personal life goes awry. And, in my case, it was an absolute lifesaver."

A College Degree—and Selection by James Cagney

By 1956, Yvette had earned a Bachelor's degree in theater arts from UCLA and was vigorously pursuing her acting career. She gained further ground that year when she won the part of the beloved barroom floozy, Cherie, in an L.A. stage production of Bus Stop. In a performance that both echoed and yet stood apart from Marilyn Monroe's in its excellence, Yvette garnered great reviews and was later hand-picked by actor James Cagney for her second film. At the time, Cagney was making his directorial debut in a Paramount Studios crime film for producer A.C. Lyles, titled Short Cut to Hell, and he felt that Yvette would be perfect for the flashy role of the snippy, rooming house tramp named "Daisy". It was a typical, 1950s B-movie that gained some much-needed luster from Cagney's creative involvement. "The film was a remake of the popular Alan Ladd picture, This Gun For Hire," said Yvette, "but the finished product left a lot to be desired. Clearly, it lacked the original film's power and spark." Although her character completely disappears from the story after the first twenty minutes, Yvette made a memorable impression—especially in the film's opening scene, where the camera lovingly follows her super-sexy chassis as she saunters down a hallway. "That scene won me some attention," she recalled, laughing. "A lot of photographers and cameramen back then were always trying to shoot me from behind."

Despite the film's disappointing box office, Yvette was grateful for the unforgettable experience of working with James Cagney. "Probably the finest and most decent man I knew in Hollywood. He was generous, kind, and always had a marvelous twinkle in his eye. I just idolized him. James very patiently worked with all of us in the cast, and on the set he was constantly sending journalists over to interview me. He would say, 'This is a wonderful new actress, Yvette Vickers. You talk to her because she's going places.' Such a sweet and honorable man––and totally devoted to his wife, too. Trust me, that's not something you see all that often in Hollywood. I don't believe they make them any better than James Cagney.

"After Short Cut to Hell in '57, I did a few more small parts in films (The Sad Sack, Juvenile Jungle) and I also had a pretty good role in Reform School Girl over at AIP. I was a tough-talking, teenage delinquent named "Roxie" in that one—a real heavy. There were a lot of girls on that set, but there was no real rivalry between us; we all got along fine. I was especially close to Luana Anders, who was a very intelligent girl; a bit reserved, actually, but very sweet. Sally Kellerman and I already knew each other socially as we often palled around together at some of the beat clubs down on the Sunset Strip. Gloria Castillo, the film's leading lady, came from an extremely wealthy family in Malibu, and she was a friendly person. I was sad to learn several years ago that she apparently died at a very young age. Diana Darrin worked a lot at AIP, and she was something else. Wow, talk about bubbly! When I would see her around town at parties and things, she would always scream from across the room, 'Hi, Yvette!' and then come running over to say hello. She was very nice. At the time I did Reform School Girl, I owned a beautiful white Jaguar with midnight blue leather seats, and I used to drive it all around Hollywood. You know, it was a real movie-star car. I loved it!"

It was on the set of Reform School Girl that Yvette met her next boyfriend, burgeoning teen idol Edd Byrnes (soon-to-be known throughout the country as "Kookie" in the hit television show, 77 Sunset Strip). Despite his convincing turn as a surly villain in Reform School Girl, Byrnes' real-life warmth quickly won his co-star's affection. "Edd was a real sweetheart and we had so much fun together. We went to a lot of parties with people like John Ashley, Nick Adams and (actor) Dennis McCarthy, and Edd took me to a couple of big film premieres at Graumann's Chinese Theater, too. Oh, and then there were those terrific lunch dates with Edd and Peter Brown at The Cock and Bull Bar, where we laughed and joked and drank bull shots for hours. Let me tell you, it was great fun being a young person working in Hollywood in the late 1950s. Edd and I had a blast together, and we're still friends to this day.

"You know, speaking of lunch dates, a lot of the girls back then would use the lunch date to fend off the guys we didn't want to go any further with. Now, I'm not referring to Edd Byrnes here, because he and I did date for several months. I'm talking about the guys who would bug you for a date; guys you weren't interested in. If you agreed to meet them for lunch, rather than for dinner, sometimes they would get the hint that it wasn't really going to go anywhere. Anyway, that strategy always seemed to work for me. One guy I would meet for dinner, though, was Hugh O'Brian. I've known Hugh since I was in my early teens and we dated, off and on, for a period of several years. Although he's always treated me wonderfully, I understand that several women who have worked with him have since complained about his extremely healthy ego." She laughed at that description. "Well, it's true, he is an extremely confident guy, but as I said, he has always treated me with respect. When we dated, he was very protective of me, almost like a big brother would be. One thing about Hugh, though––when you were dating him, he was convinced that after being with him, you would never want to date anyone else again. He also believed (or hoped?) that when the two of you weren't together, you were at home by the phone, waiting for his next call. Believe me, I wasn't! Hugh O'Brian is quite the macho man.

"One thing that I do think is important to mention, and that I would like to make clear, is that when I had a physical relationship with someone, it was absolutely exclusive. I might have dated other guys, but the physical stuff was confined to one guy only. You know, it's funny, but because of the characters of "Honey Parker" in 50 Ft. Woman and "Liz Baby" in The Giant Leeches—plus all the other bad girls I've played—a lot of people just surmised that I was a husband-stealing tramp and a cheap little hussy in real life. I promise you, I wasn't, and I'm not. I've always loved to flirt, that's true, and I think that healthy, innocent flirting is very normal and can also be a lot of fun. But, I've never been the type of man-eating barracuda that Honey and Liz were. I just think it's important that people know the real me.

 
Please leave a comment below.
Leave Reply
You must be logged in to post a comment.