Everyone's Reaching Out for Someone – Pat Daisy – Page 4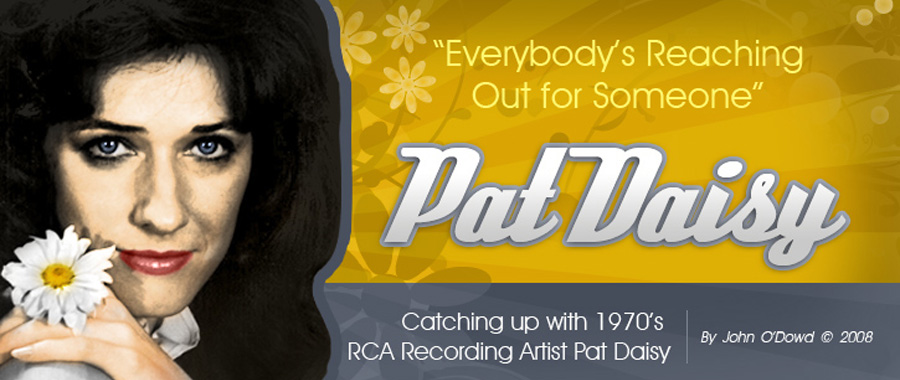 Banner Design by www.active-8.com
Last Update: 1/1/2009
Hear Pat Daisy sing "Everybody's Reaching Out
"Everybody's Reaching Out"

Page 4 of 5

Following her tenure as a solo artist at RCA, Pat began a long and fruitful association with legendary pianist Floyd Cramer, one of the primary architects (along with Chet Atkins and Owen Bradley) of the smooth and classy "Nashville Sound"of modern country music. Born October 27, 1933 in Sampti, Louisiana, Cramer had grown up in the small town of Huttig, Arkansas, where he began playing the piano at age five. Upon graduating from high school in the early 1950's, he returned to his home state where he worked as a pianist on the KWKH-Shreveport Louisiana Hayride radio show, later touring the southwest with a rockabilly band. Cramer moved to Nashville in January 1955 and quickly became one of the busiest studio musicians in the industry, playing on recording sessions for everyone from Webb Pierce and The Browns to Don Gibson and Faron Young. Signing with RCA Record in 1959, he began issuing a series of mellow instrumental albums geared at both the pop and country markets, while performing regularly on the Grand Ole Opry.

As a session player, Floyd Cramer developed a distinct sound in his piano playing that would eventually become his trademark. When he would hit a note, he would purposely hit an adjacent key and then allow his fingers to slip off the key, creating a sound that would be dubbed the "slip note". It's been written that Cramer first stumbled upon this melancholy piano style on a demo he and songwriter Don Robinson recorded of the future classic Please Help Me, I'm Fallin', though Cramer himself always maintained that he had actually developed the style from listening to Mother Maybelle Carter on the autoharp. The "slip note" style Floyd Cramer perfected can be heard on nearly every RCA and Decca recording made in Nashville during the 1960's, including Jim Reeves' Four Walls and Patsy Cline's Crazy.

In late 1960, Cramer had a huge hit record with his beautiful and haunting instrumental composition of Last Date (again featuring his slip note style of playing). The song soared to the Top 2 on Billboard's Hot 100 pop music chart and into the Top 15 on the magazine's country chart and made him a household name, virtually overnight. He followed this success with several other hit records, including On The Rebound and his version of the Bob Wills' classic, San Antonio Rose (a Top 10 country hit in June 1961). Although his musical style eventually fell out of favor in the marketplace when country music became much more progressive in the late 1970's and 80's, Floyd Cramer was still a popular concert draw when Pat was given an opportunity to work with him in the mid 70's.

John: How did you come to work for Floyd Cramer?

Pat: After I was no longer recording for RCA I got a call from Roy Dea who said the label wanted to do something different with Floyd, who had been on the label for several years. They wanted to use a single female voice instead of a vocal group on his next record and Roy asked me if I would be interested in doing that. Of course I was thrilled and said yes. RCA sent me the tape of the song they had in mind, Touch The Wind. [The Spanish version of the song, Eres Tu, was a pop hit a few years earlier.] The day before the recording session, Roy told me if Floyd liked me he might ask me to do an entire album with him. I drove up to Nashville and Roy took me up to Floyd's office in the RCA building so that I could meet him. I remember Roy telling me beforehand, "With you, Floyd and Chet Atkins in a room together, the silence will be deafening." (laughs) We were all very quiet people. Anyway, Floyd and I hit it off right away. We went down to the recording studio that same day and cut the song Touch the Wind. Chet and Roy Dea produced the session, and when we were finished, Floyd came to me and said he had the studio rented for another session and could I stay and cut three more songs for an album he was doing? So, later that day we cut Faded Love, Thinking Tonight Of My Blue Eyes (which was later nominated for a Grammy), and The Prisoner's Song. They put Faded Love on the back of the Touch The Wind single, as well as on the album. The album came out in 1976 and was titled Floyd Cramer Country.

John: Floyd Cramer was an incredibly gifted and successful musician. What was his personality like? Was he down-to-earth, a perfectionist, a good businessman, etc.?

Pat: Floyd was a nice, normal person. He wasn't arrogant and he didn't have a big ego. I remember doing a benefit show with him and after the first rehearsal he invited me over to his house to meet his wife, Mary. They had two daughters and they were a very close family. Floyd also spoke highly of his grandson—about how well he could hear a song and then play it on the piano. I remember seeing a couple of pictures the boy had drawn for Floyd taped to the front of his desk. His family meant a lot to him.

After I cut those songs with Floyd in 1976 he asked me to work some shows with him. The shows were what I thought country music was going to be like when I first started out. Floyd's shows were all about beautiful music. All the men in his band wore tuxedos and there was always a big orchestra behind us. Those shows were probably the highlight of my entire career. Anyway, later on he asked me to send him the songs I was writing. When he had enough of them he demoed all of them and sold them to his publisher, Acuff-Rose. Floyd invested a lot of his own money on those demos and he told me that Acuff-Rose offered to buy the songs from him if I would sign on as a writer with them. I told him that I had some concerns about that but I decided to sign with them anyway, mainly because of Floyd. Right away, Don Gibson recorded one of my songs (Come Back And Love Me Again), which I thought was a great honor since he was such a fantastic writer himself. I went up to the studio and added harmony to the song. But after that, nothing happened with any of my other songs and I later learned from the guy that pushed my material at Acuff-Rose that when other girl singers heard my songs they turned them down because they thought they were too difficult to sing! That only made me think that maybe they weren't good enough singers! (laughs) Then, I got a call one day from someone I didn't know telling me that the songs I had written would never do anything in Nashville and that I should try to get them back. Later on Acuff-Rose sold their entire song catalogue to Opryland Music, which in turn sold it to Sony, which had bought out Tree Publishing. So the bottom line is, I have close to 100 songs tied up at Sony—to this day—that no one knows about. It makes me glad to know that things are much different in Nashville these days and that the artists are able to have total control of their music. In the past, we all too often gave that control to some publishing company that didn't deserve to have it!

John: The song Hiding A Heartache is a demo you wrote that was produced by Floyd Cramer. When did you record this song? In the 1980s? Was the song ever picked up by another artist and recorded?

Pat: After selling the first demos to Acuff-Rose, Floyd continued to demo several more songs of mine and Hiding A Heartache was one of them. That was sometime in the 1980's, however I can't remember the exact year. Floyd played the songs for one or two people [in the industry] but nothing ever happened with them, so, no…they were never recorded by another artist. Whenever Floyd didn't receive any songs from me for a while he would call me up and encourage me to keep writing and to keep sending him the songs. Floyd was always hoping to make something big happen in my career. So, I continued to write songs, and to send them to him until the day he died. However, I haven't written anything since. [ed. note: Floyd Cramer died of lung cancer in 1997 at the age of 64.]

John: In a perfect world, you would have gone on to record many more singles and even albums (either for RCA, or for another label). If this had happened back then, what kind of material would you have wanted to record—mostly pop, with some country-sounding stuff, or the other way around? Would you have had any interest in exploring folk music on your albums, or perhaps other genres, such as rock, blues or gospel?

Pat: I would have liked the opportunity to cut more crossover material—you know, well-written country ballads with some beautifully orchestrated pop instrumentation. I really liked Gordon Lightfoot's music and I would have enjoyed recording the same kinds of albums he did. He had a lot of folk sounds in his songs, which I love. In fact, I once recorded a Gordon Lightfoot song called Looking At The Rain and I still think it was one of the best songs I ever cut. I brought it to Jerry Bradley and he agreed to produce it for me, but RCA never released it. There were a lot of songs in several different categories that I wish I could have cut back then, but in those years they always said that you had to be in one category and that you couldn't straddle the fence.

John: Was there a "dream producer" whose production work you admired and enjoyed, that you wished you could have worked with?

Pat: Yes, Chips Moman…and it almost happened, too. He had produced some big hits in the country and pop fields for Elvis Presley and B.J. Thomas and I felt like I had finally found someone who would know what to do with me. A few years after I had stopped recording for RCA, I got a call from Floyd saying he had been playing golf with Chips and that he had played him a tape of my most recent songs and that Chips was interested in meeting me. Floyd said, "Bring your guitar and if he likes you he'll invite you over to the recording studio at his house." Well, I had never played the guitar on stage—only in putting down my songs on tape, because I'm not a good guitar player, and when you're taping and you make a mistake you can always start over again. So, I was a little apprehensive at first about playing for Chips. Nevertheless, Floyd and I met him at a Shoney's Restaurant in Nashville and later on Chips brought us over to his studio. I played my guitar and sang a song for him and he said he just wanted to know if I sounded the same in person as I did on the tape. (He said I did.) Then he took my guitar and Floyd sat down at the piano and they played some wonderful music together. I couldn't believe what I was hearing—it was fantastic! When we started to leave Chips said he definitely wanted to work with me. I was so excited, I thought, "I'm finally going to get to record the kind of music I've always wanted to make." After that, we talked several times on the phone but nothing ever happened. Finally, I called him up one day and asked if he had changed his mind about producing me and he said, "No". However, I never heard from him again. I'm not the type to be pushy and I hate to bother people so I never called him after that. Unfortunately, that's not the way to get ahead in country music—or in any other business, for that matter.

John: When you left RCA, did you immediately look to record for another label, or had you decided by then to retire from recording (or rather, from actively pursuing your recording career)?

Pat: I wanted to keep recording but it didn't work out. Sometime after I left RCA, my manager Charlie Lamb got hooked up with some people in Texas who were going to start their own label and he wanted me to record for them. But when we went into the studio and I heard the musicians and the back up singers I knew it wasn't going to work…and it didn't! After that I just concentrated on my songwriting, sending everything I wrote to Floyd. He believed in me and I knew anything I did with him would be quality work.

 
Please leave a comment below. or visit my retired guestbook, to see previous comments.
Leave Reply
You must be logged in to post a comment.