Everyone's Reaching Out for Someone – Pat Daisy – Page 3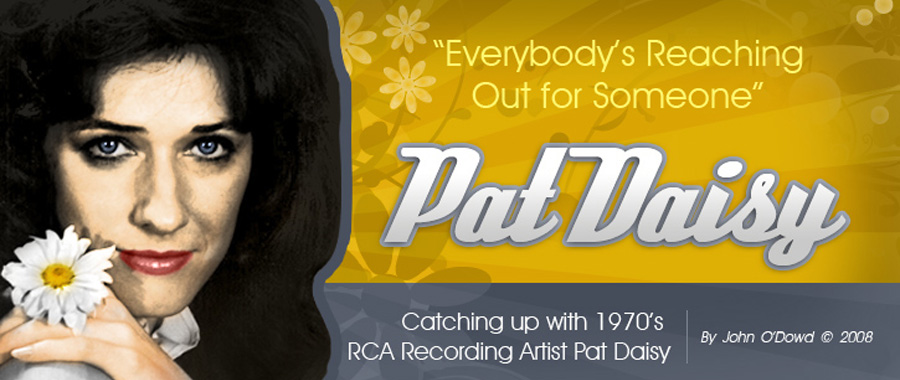 Banner Design by www.active-8.com
Last Update: 1/1/2009
Hear Pat Daisy sing "Everybody's Reaching Out
"Everybody's Reaching Out"

Page 3 of 5

As for life on the road…yes, it was very hard back then. I remember doing a show in Pennsylvania with Waylon Jennings and some other artists, where we didn't get paid. I had worked an outdoor show the day before Waylon arrived and the promoter told me that his partner had run off with all the money. Waylon pulled up in his black bus and Little Jimmy Dickens had returned in his bus from the day before when he had done his show—I'm assuming, to try to get his money. He and the promoter were in that bus for a long time. Waylon told me he wasn't going on, and I decided I was going to do whatever he did. After a while he said, "Those people out there have paid good money to see me so I 'm going to do the show." I figured I should as well. Afterwards, the promoter gave me a check, which as an artist you're not supposed to take, and of course it bounced! The last time I talked with Waylon was at RCA where we were recording a tribute to Chet Atkins and he asked me if I ever got paid for that show. I told him I didn't and he said that he didn't, either.

That sort of thing happened a lot in those years. For instance, I heard several other country stars say that after paying their band they would have to turn around and borrow money from them just to get back home! The amounts of money that artists get paid now and the types of venues they play have changed a lot since the 70's, and they have a much better life on the road than we had.

I recently remembered a very strange occurrence I witnessed once that was probably the weirdest thing I ever saw during my entire time in the business. Like I said before, Dickey Lee is a very nice and sweet person and he really saved me once from what could have been a really disturbing experience. I had told him that I was coming up to a certain recording studio in town to have some footage taken of me singing that some guys from England wanted to use back home. Dickey knew the owner of the studio (who was a very celebrated person in the industry), and he said he was going to go over there with me because the guy could do some strange things sometimes.

When we got to the studio, Kris Kristofferson was also there recording. After I got through with my work, the owner of the studio invited us all up to his office. It was very dark inside and all of a sudden the guy jumped out of the darkness and up on to his desk, where he proceeded to squat down like a frog and act totally crazy! I was very grateful to Dickey for being there with me because I was scared to death. Obviously, we didn't stick around!

John: Only in the 70's, I guess! During this period, did you appear frequently on TV?

Pat: Yes, I was often a guest on Ralph Emery's morning TV show in Nashville. Ralph was always very nice to me. He also had his own syndicated radio show at the time which usually only featured artists who had albums to promote but he always invited me on the show to play and promote my singles, too. Ralph also had me on his nightly radio show on WSM. The first time I was invited to play the Grand Ole Opry was right after my first single, You're The Reason, came out. I performed on the afternoon matinee and then came back later that night and did three more shows. All together, I made around ten appearances on the Opry. Unfortunately, I didn't hire a manager until some time after Everybody's Reaching Out was released, which was a little too late [for it to do any good]. During this time, I appeared on a syndicated TV show called That Good Old Nashville Music and I also did a network show called Country Music USA. The last time I was on the Opry I had gone up to do Ralph Emery's morning show and I met Tex Ritter. He said, "I am going to introduce you on the Opry tomorrow night." I was thrilled! Sadly, he died very shortly after that show.

Another person I was thrilled to meet was the great gospel singer and songwriter, George Beverly Shea. RCA hosted a big dinner party honoring Chet Atkins 25th anniversary with them and they arranged for me to sit next to George, knowing that we would have a lot in common (meaning religion). I greatly enjoyed our conversation that night.

John: Following Everybody's Reaching Out, RCA released the song Beautiful People in the summer of 1972 as your next single. It was a remake of a 1967 pop hit for Bobby Vee. Did your producer choose this song for you, or did you have a say in this, and the other kinds of material you recorded?

Pat: Beautiful People was chosen for me by Jerry Bradley. He was trying to find something pop sounding [to try to get us a crossover hit] but that song would not have been my first choice. In fact, I had a lot of trouble recording it…the song just didn't seem to fit my style.

John: Beautiful People was a mid-chart success and your next single that appeared in Billboard came out a year later. Titled The Lonesomest Lonesome, it was a moody and heavily-produced record with a dramatic string arrangement. Do you remember who wrote this song and how you found it? The single hit the Top 50 in Billboard. Did you like performing it?

Pat: The Lonesomest Lonesome was written by Mac Davis and had been recorded earlier by Ray Price with an entirely different arrangement. I heard the Mac Davis version on one of his albums and brought it to my new producer, Roy Dea. We both loved it and the promotion guy at RCA later told me that it was the only record he had ever gotten a call on from Ralph Emery telling them that RCA had a hit on its hands and that they shouldn't let it slip away. When I did the Opry, one of the guys in the band asked me where Lonesomest Lonesome was on the charts and when I told him it was only in the Top 50, he couldn't believe it. He said they were playing it constantly on the radio in Nashville, even though people couldn't find it in any of the record stores. People would always tell me when they met me that they couldn't buy my singles anywhere—even early on, when Everybody's Reaching Out was a hit. I often received fan mail back then telling me the same thing. I have no idea why that was, but evidently RCA had some problems with its distribution back then.

John: Did you ever record an album for RCA? If not, did you record several sides at RCA that were unreleased but could have made up an album's worth of material? In other words, do you know if there are any Pat Daisy cuts at RCA that remain unreleased in the label's vaults?

Pat: There were several songs that I recorded that were never released, and I have copies of all of them. After a session I always had them make me a copy of whatever I had recorded that day. RCA said it was going to release an album after Everybody's Reaching Out made the Top 20, but it never happened. Whether everything I cut at the label is still in its vaults all these years later is something I can't answer because I don't know.

John: The song My Love Is Deep, My Love Is Wide was your last single on RCA that appeared on the Billboard charts. What can you tell us about this song? Were you still being produced by Roy Dea at the time?

Pat: Yes, Roy was still producing me. Personally, I would not have chosen My Love Is Deep, My Love Is Wide as a single. I told Roy that if we were going to record it, that we should cut it "Anne Murray-style"[meaning, more pop, or country/pop sounding]. He knew how much I disliked a steel guitar sound on my records because I asked him to remove it from The Lonesomest Lonesome, which he did. Anyway, when I came in to record My Love Is Deep, My Love Is Wide, one of the best steel guitar players in town was there for the session, so needless to say, I was a bit surprised by that! But that's how that particular song came about and while it was the last one of my RCA singles to chart, it wasn't the last single we released.

My last recording session at RCA was sometime in 1974 at the famous Studio B (although at the time I didn't know it was going to be my last session). In addition to My Love Is Deep, My Love Is Wide, I also recorded a song called I'll Comfort You and two songs that I had written, For You and Would You Go Away. I cut both those songs with a five string quintet, which was kind of unique at the time. I had hoped that RCA would see that the songs were different from anything else being recorded in country music back then and that the label would promote them that way. Roy Dea loved both of the songs and put For You on the back of what turned out to be my last single for them, I'll Comfort You. Would You Go Away never saw the light of day and I imagine it is still in the can somewhere. Roy told me he got a call from a DJ in Texas about For You saying how he thought it could become "a modern-day classic". But unfortunately, with it being the B-side of a record that wasn't a hit, that didn't happen.

John: Please talk a little bit about I'll Comfort You, which was your last RCA single. The record didn't chart in any of the trades. Did you know at the time of its release that it would be your final single for the label? (Or was it released at the same you were leaving the label, and that's why RCA didn't promote it?)

Pat: That was another one of those songs that wasn't quite me. It was released when was I was still on the label but it wasn't worked, and it didn't chart. During this time, my contract was not renewed but I was told by RCA, "If you ever come up with another hit record bring it to us and we'll put it out." The way the label usually found songs for me was to listen to other people's albums for songs that had already been recorded. That made things easier for them as there was very little work involved on their part and they didn't have to be creative, but it made it impossible for me to find my own sound.

John: When did you leave RCA? Did you immediately look for another record deal, or did you instead concentrate on your stage show and your personal appearances?

Pat: I left RCA in 1974 and everything ended, as far as my recording solo stuff. I was frustrated because after almost five years with the label I still couldn't get the kind of sound that I wanted. Curly Putman once told me that I was ahead of my time because middle of the road wasn't as popular back then as it would be later on.

 
var _gaq = _gaq || []; _gaq.push(['_setAccount', 'UA-39360450-1']); _gaq.push(['_trackPageview']);
(function() { var ga = document.createElement('script'); ga.type = 'text/javascript'; ga.async = true; ga.src = ('https:' == document.location.protocol ? 'https://ssl' : 'http://www') + '.google-analytics.com/ga.js'; var s = document.getElementsByTagName('script')[0]; s.parentNode.insertBefore(ga, s); })();
Please leave a comment below. or visit my retired guestbook, to see previous comments.
Leave Reply
You must be logged in to post a comment.