Everyone's Reaching Out for Someone – Pat Daisy – Page 2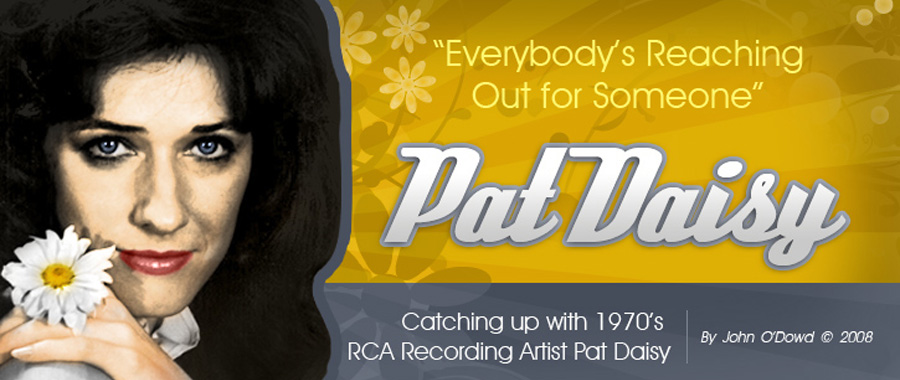 Banner Design by www.active-8.com
Last Update: 1/1/2009
Hear Pat Daisy sing "Everybody's Reaching Out
"Everybody's Reaching Out"

Page 2 of 5

John: Who were some of your earliest musical influences? Did you ever get to meet any of them after you began your recording career, and if so, what were they like?

Pat: When I was in grade school my best friend and I used to play records by Teresa Brewer and Brenda Lee and take turns singing along with them. I met Brenda years later when she was hosting a show I attended. I thought she was nice. While growing up I guess you could say I listened to whatever our local radio station was playing, and that was usually just the major hits of the day. I don't remember the stuff being country, per se. Back then (to me, anyway) country music sounded more like what bluegrass sounds like today. After I was married I started listening to artists like Dottie West, Jim Reeves and Marty Robbins. I later met Dottie in the ladies restroom at an RCA function. I remember we discussed Fan Fair. I liked to watch Dottie perform because she just stood there and sang her heart out.

John: When did you first begin to think about pursuing a musical career? Did you attend college?

Pat: I did not attend college. My boyfriend Mike Deasy's mother died right before his high school graduation. His father worked a night shift and he had an eleven year old sister who needed to be watched, otherwise she would have had to go to an aunt's house every night. Mike and I had planned on marrying eventually but because of the circumstances we decided to get married right away. We stayed in our hometown for two years and then we moved to Nashville for a while. While we were there, we watched the taping of several country music TV shows. Seeing those shows and all the great singers that appeared on them reminded me how much I loved country music and got me thinking that I would really like to try to break into the business.

John: I understand that you also lived in Huntsville, Alabama for a time, where you worked in a folk group. Was this after you first went to Nashville?

Pat: Yes, my husband's work brought us to Huntsville in 1966. Mike was an engineer and in those years the space program provided lots of job opportunities for people. A close friend of his was in Huntsville working for NASA. He knew I enjoyed singing and that I was looking to get started and he introduced me to three guys who had a local folk group. They liked my voice and occasionally asked me to sing with them.

John: When were you signed to RCA Records? Was this your first record deal and were you given an album deal, or were you signed to the label as a singles artist?

Pat: I was introduced to RCA through the great songwriter Curly Putman. Mine is a real Cinderella story. My husband had bought me a small tape recorder and I started writing songs and putting them down on tape. I didn't know how to play an instrument and I didn't know how to read music so I asked one of the guys from the folk group, who had become a good friend, to play the guitar for me. He would come over to our house and I would sing the song to him and he would find the chords I was singing. Then, we would record it on this tiny tape recorder of mine and I would add the background harmonies later on. I let someone hear some of the songs I had written and he let someone else hear them and that person had some contacts in Nashville. He got me an appointment with Curly Putman, who had his own publishing company at the time called Green Grass Music, and Curly asked me to work for him as a songwriter. I continued to write for about a year and then I finally went up to Nashville to cut some demos of my songs. Curly took that tape to Chet Atkins at RCA and in early 1970 he signed me to the label as a singles artist. I was on cloud nine as my childhood dreams of being a singer and a recording artist had come true!

When I signed with RCA, I brought all the songs with me that I had written and recorded for Green Grass and now it had sold to Tree Publishing. I knew nothing about the music business at the time, and it turned out I had a lot to learn…

John: I see you first hit the Billboard country charts in February 1972, when your first single for RCA, Everybody's Reaching Out For Someone hit the magazine's Top 20. That is a terrific showing for an artist's first single.

Pat: My first single was actually You're the Reason, and it came out in April of 1970. Both sides of the record were songs I had written. I think the single made it to the 60s on the Cashbox and Record World charts. [ed. note: The song did not chart in Billboard.] My next single was also comprised of two songs that I wrote…the A side being Are You Really Leaving, Baby? It was also on the charts in Cashbox and Record World, but I don't remember where. My third single was Everybody's Reaching Out.

John: The song was extremely commercial and had a very memorable and infectious melody. In fact, it still sounds great today. Can you recall your feeling at the time when you realized you had a hit record on the national charts? Did RCA show a lot of belief in your career at the time and did they put a lot of promotional support behind the record?

Pat: When I first signed with RCA I was very excited as they said they were going to build my career and promote me like Capitol was doing with Anne Murray. But after Everybody's Reaching Out peaked, they didn't follow up with another single for almost six months. At that time in Nashville very few artists were doing anything that was really original. Everyone seemed to be copying each other's music because that's what the industry wanted. As for my producer, Jerry Bradley (Owen's son), I remember him telling me early on that he didn't know what to do with me. I didn't like some of the songs RCA had me cut after Everybody's Reaching Out because they were not really me. I wanted to develop my own style but unfortunately that never happened.

John: Who are some of the country artists you met during your time in Nashville? Do you have any amusing, interesting, or even sad memories of any of them?

Pat: I met a lot of the other RCA artists at various business functions. Dolly Parton was a very sweet person. Dottie West and Connie Smith were also nice. I did a show with Skeeter Davis once and was happy to learn that we had a love of animals in common. She brought her cat to the show and I have a photo of the three of us together backstage. George Hamilton the IV was a real friendly guy. We discussed the possibility of maybe being related to one another because my mother's maiden name was Hamilton. Dickey Lee was also a very sweet and nice man. He was the co-writer of Everybody's Reaching Out. Johnny Russell was always funny. So was Jerry Reed. I was doing a recording session one day and Jerry (whom I didn't know at the time) came in the back door of the studio and laid down at my feet until I finished the song. Needless to say that made me very nervous since I had never met him before! (laughs) One day I was at RCA and they were throwing a party for Buford Pusser, the guy whose life the Walking Tall movie was about. I met him that day and was surprised to see that he was very quiet and shy. I attended my first DJ convention in Nashville and RCA held a big party the night before. Someone took a picture of me with Chet Atkins and Frances Preston, who was the head of BMI at the time. I didn't know it but the next morning the picture was on the front page of all the Nashville newspapers. I guess that was RCA's way of introducing me to the DJs because right under the picture was a blurb about my new single coming out. My first recording session at RCA was at Studio A. It was a very large room and I was scared to death! When I walked into the studio, the Jordanaires were standing there, as were several musicians that are now in The Musician's Hall of Fame. That was a very thrilling experience for me. Harold Bradley led that first session [and all the others that followed]. We would run over the songs a couple of times and then record them. As I said earlier in the interview, I felt like all my childhood dreams were coming true.

John: When did you change your surname from its original spelling "Deasy" to "Daisy"? Was it suggested to you by an agent or your management that "Daisy" was a more commercial sounding name?

Pat: My married name [Deasy] is pronounced Day-see so when RCA signed me and looked at the original spelling they said there was going to be a problem. My producer Jerry Bradley said that every DJ was going to mispronounce my name and suggested that I change it to Daisy. I liked the idea and the label used it for a while as a promotional thing. With my first record, You're The Reason, they sent out a Daisy night light, and some ads in Billboard even had a daisy with my face in the center. I thought that was very clever marketing on RCA's part.

John: What were some of the venues you played in the early 1970s? Did you do a lot of fair dates, and did you tour extensively? If so, who were some of the acts you toured with and do you have any memorable stories about them, or the places you played? Was life on the road difficult back then?

Pat: I didn't do as many dates as most artists because I had a small child at the time (my son Kevin was born in 1965) and I didn't want my music career to interfere too much with my family life. I worked mostly on the week-ends and my husband always drove me to and from the dates. Sometimes when working shows with other performers (whom I would rather not name), I was very sad to see that they were drinking and doing other things [that were not healthy].

 
Please leave a comment below. or visit my retired guestbook, to see previous comments.
Leave Reply
You must be logged in to post a comment.